Industry Overview
---
Blazminds Technology Services Pvt. Ltd. is best Software Company providing Development Software with Supportive works to Hotel & Hospitality Industry in the global world. Hospitality is defined as taking care of the guests and anticipating their needs. And also the way people treat others, which are the service of welcoming receiving guests for example in hotels. The relationship between a guest and a host is the host receives the guest with goodwill, including the reception and entertainment of guests, visitors, or strangers. The tourism can stimulate the building of infrastructure such as roads and public transportation. Also important economically are the jobs created by the industry.
We are committed to providing quality IT Services our benefits are endless for local IT Companies & Startups, really know the true needs and expectations of customers, talented & experienced management solutions.
The industry is a broad category of fields within the service industry that includes lodging, food and drink service, event planning, theme parks, and transportation. It includes hotels, restaurants and bars which can be broken down into three basic areas: accommodations, food and beverage, and travel and tourism. All of these areas are customer-focused, but they sometimes provide different levels of service.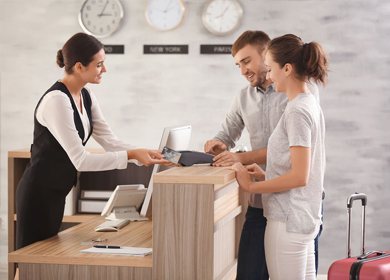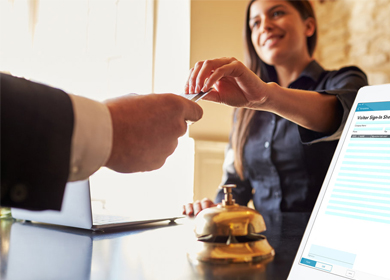 Hospitable behaviour is characterized by a positive orientation towards guests, enthusiasm, positive energy and the willingness to recognize and meet a guest's implicit needs. Hospitable behaviour is often related to the idea that one has to be born with hospitable genes or with a hospitable personality. Major role in guest satisfaction by providing an appealing visual environment also by providing guests comfort with heating an AC. They also provide basic supplies like clean water for bathing or relaxing in spas, or swimming.
Offerings
---
We can say that Hospitality facilities management is also responsible for overseeing extra amenities and services offered by your facility, having a system to manage all parts of the guest experience including check-in, spa reservations, parking. Among these areas will be front desk management, housekeeping operations, food and beverage management, and human resources planning. It also offers a more personalized experience to visitors with digital assistant for room service or to lower the blinds in their room with simple voice commands.
We are committed to providing quality IT Services
Really know the true needs and expectations of customers
Talented & experienced management solutions for IT
Processes of achieving the excellence and continue improvements
Feature & Benefits
---
Front Office Management
Our Services to help as managing the parts of a company such as the sales staff and customer service staffs which come into contact with customers, managing the sales staff and marketing staff that come into contact with customers and also which is the part of a company that comes in contact with clients, such as the marketing, sales, and service departments.
Central Reservation System
Our Service recommends is to be computerized reservation software that maintains the hotel information, room inventory and rates, to manage the reservation and process. The software system that maintains a hotel's room availabilities, rates, guest information, payment processing and Travellers can book reservations.
Supports Smart Devices
Our Service help to protect and prevent errors in hard drives, monitoring and analyzes hard drives then checks the health of your hard drive and lets you know if there are any problems in any smart device like smartphones, smart cars, smart thermostats, smart doorbells, smart locks, smart refrigerators.
Multi-Property Support
Our service help to enabled a hotel or group of hotels to manage front-office capabilities, such as booking reservations, guest check-in or check-out, room assignment, managing room rates, and billing with designing to meet the varied requirements of any size property to help the operation at a greater level of productivity and profitability in Business House.